Published 06/16/2009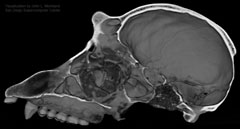 CT scans are composed of a 3D stack of data 'slices.' This image of a chimpanzee skull shows one 'slab or a subset of slices, displayed as a virtual cut-away out of the complete data set. Digitally manipulating CT scans in this manner allows researchers worldwide to perform analyses without ever handling or possibly degrading the actual physical specimen.
Source: John L. Moreland, San Diego Supercomputer Center, UC San Diego.
To help trace the origins of the human species, and potential links to other primates, researchers with the Center for Academic Research and Training in Anthropogeny (CARTA) -- a joint organized research unit of the University of California, San Diego and the Salk Institute for Biological Studies -- will begin digitizing and examining skeletal specimens and related medical records this summer from more than two dozen chimpanzees.
The chimpanzee specimens and records, which include an extensive collection of skeletons, radiographs, blood serum samples, and observation logs, were donated by the Primate Foundation of Arizona (PFA), which cared for the animals after they were "retired" from zoos or brought to the foundation by owners unable to care for them. All samples were collected in the course of routine medical care, or from chimpanzees who had died of natural causes.
In addition to the digital cataloging of those specimens and records, researchers from the San Diego Supercomputer Center (SDSC) at UC San Diego, along with other university scientists and faculty, are planning to perform computerized axial tomography (CT) scans of the chimpanzee skeletons in the collection. SDSC researchers successfully performed the first test CT scans of a chimpanzee skull at UC San Diego's Thornton Hospital in April, using the facility's mobile 16-slice GE CT unit during off-hours. Digital animations were developed from those first scans.
The resulting scans, using DICOM metadata and software, will allow CARTA members and other users to digitally manipulate the images for detailed analysis and instant digital measurement without ever handling the actual physical specimens. The CARTA databases will become available via the organization's newly created website, which is also housed at SDSC, an organized research unit of UC San Diego. Along with the UC San Diego division of the California Institute for Telecommunications and Information Technology (Calit2), SDSC provides IT infrastructure support and informatics for CARTA, which was formally established in early 2008 under a partnership between the university and the Salk Institute.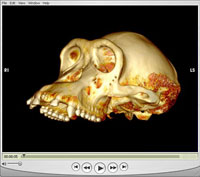 ( click image for video)
Once a 3D reconstruction has been performed and all CT slices have been combined and rendered together, animations can be rendered, saved, and played back later without the need for the original raw data or 3D visualization software. This animation, using OsiriX imaging software, shows a 360-degree rotation of a chimpanzee skull that was scanned as a test at UC San Diego's Thornton Hospital, using the facility's mobile 16-slice GE CT unit during off-hours.
Source: John L. Moreland, San Diego Supercomputer Center, UC San Diego.
"This collection is unique because it is such a well-documented subset of chimpanzees," said Margaret Schoeninger, professor and past chair of UC San Diego's Department of Anthropology, and co-director of CARTA. "Thanks to the PFA, there are very detailed medical and observational records for this group, along with a superb set of physical specimens. We are excited to add this collection to CARTA's planned online databases, and eventually make it available to a wide range of anthropogeny researchers for further study and analysis."
"This activity fits extremely well into the overall mission statement of CARTA, which is 'to use all rational and ethical approaches to seek all verifiable facts from all relevant disciplines to explore and explain the origins of the human phenomenon,'" said Ajit Varki, co-director of CARTA and a professor of medicine and cellular and molecular medicine at UC San Diego's School of Medicine. "I was very fortunate to be able to follow up on the groundwork laid by Pascal Gagneux, CARTA's associate director, to negotiate this agreement with PFA, which had been planning to close its doors due to lack of funding."
The unique collection was given to CARTA by the PFA Board of Directors. PFA Director Jo Fritz stated that the only requirement was that these resources be made available to the widest possible range of scientists interested in better understanding both humans and chimpanzees.
"We are very grateful to Jo Fritz for trusting CARTA and its mission by offering this unique collection of resources from captive chimpanzees," said Gagneux, who is also an assistant professor of cellular and molecular medicine at UC San Diego and a longtime collaborator with the PFA.
"It's always difficult to have an animal die, but to know that they will live on in science for eons to come makes it a bit easier," said Fritz.
CARTA Online Museum
Once digitized, the PFA chimpanzee collection will eventually be linked to CARTA's online Museum of Comparative Anthropogeny (MOCA). Together, these resources are a key part of an extensive website being developed by SDSC and CARTA researchers, providing scientists with detailed but easy-to-navigate comparisons between humans and other hominids, with the emphasis on uniquely human features.
"One of MOCA's goals is to catalog information about human-specific differences from great apes, which include chimpanzees, bonobos, gorillas, and orangutans," said John Moreland, a senior software engineer with SDSC. During the last eight months, Moreland has been developing the CARTA website while spearheading efforts to digitize valuable information and collections such as the PFA collection. "We're confident that housing such information in a single, web-based resource will lead to new insights and collaborative research on both a national and global scale, resulting in ethically-sound studies to explain these differences."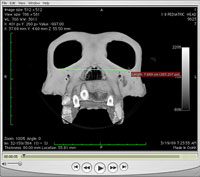 ( click image for video)
Interactive annotation can be used to perform virtual studies on CT scan data. Using OsiriX visualization software, the length measurement annotation tool is used to take instant measurements on a CT scan of a chimpanzee skull, providing researchers a valuable analysis tool without ever handling the actual physical specimen.
Source: John L. Moreland, San Diego Supercomputer Center, UC San Diego.
The structure of the CARTA website site was established by analyzing the core capability requirements of the CARTA project, and then defining a limited number of top-level menu items that would logically cluster all content into those primary focus areas to aid user navigation. The site was also designed to provide multi-tier content access mechanisms, enabling administrators to provide content-level access protections as well as site area access controls.
"Providing informatics support for efforts such as CARTA lies at the core of SDSC's mission to provide state of the art cyberinfrastructure for scientific data and information management," said Chaitan Baru, SDSC Distinguished Scientist, who leads the informatics efforts for CARTA.
The CARTA site features a calendar of events including future and past symposia, and bibliography of virtual libraries for Anthropogeny and Primatology. During the next several months, the site will be expanded to include details of the CARTA faculty's planned graduate specialization program, as well as the first phase of the MOCA project.
Funding for CARTA currently comes from the G. Harold and Leila Y. Mathers Charitable Foundation; Mr. James H. Handelman, Executive Director; and by Annette C. Merle-Smith.
About CARTA
The Center for Academic Research and Training in Anthropogeny (CARTA) was established by faculty at UC San Diego and the Salk Institute for Biological Studies as a virtual organization to promote transdisciplinary research into human origins, drawing on methods from a number of traditional disciplines spanning the humanities, social, biomedical, biological, computational and engineering, and physical and chemical sciences. As the word anthropogeny implies, CARTA's primary goal is to explore and explain the origins of the human phenomenon.
About SDSC
As an organized research unit of UC San Diego, the San Diego Supercomputer Center is a national leader in creating and providing cyberinfrastructure for data-intensive research. Cyberinfrastructure refers to an accessible and integrated network of computer-based resources and expertise, focused on accelerating scientific inquiry and discovery. SDSC is a founding member of the national TeraGrid, the nation's largest open scientific discovery infrastructure.
Media Contacts:
Jan Zverina, SDSC Communications
858 534-5111 or jzverina@sdsc.edu
Warren R. Froelich, SDSC Communications
858 822-3622 or froelich@sdsc.edu
Debra Kain, UCSD Health Science Communications
619 543-6163 or ddkain@ucsd.edu
Mauricio Minotta, Salk Institute Communications
858-453-4100 x1371 or minotta@salk.edu