Published April 23, 2020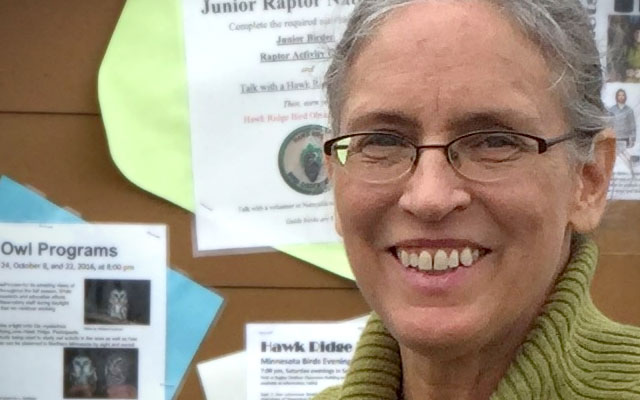 Ann Redelfs, who joined the San Diego Supercomputer Center (SDSC) at UC San Diego in 1995 as the Center's director of external relations before returning to Cornell University in 2001, passed away on April 18 in Duluth, MN, due to complications from a blood clotting disorder. She was 62.
"Ann was a major force in the evolution of SDSC," said SDSC Founding Director Sid Karin. "She was instrumental in establishing the organizational culture at the heart of much of our success. Ann also played a similar leadership role in the broader high-performance computing community, as well as in the larger computing community."
"Ann was a profoundly decent and generous human who found a way to lift up everyone around her," said Jennifer Matthews, who was part of Redelfs' External Relations and EOT team. "With a gracious smile and a metal-toed boot, Ann threw her full self into efforts that empowered women and minorities in science, and was the consummate mentor.  Her passing reaches far beyond the HPC community."
Redelfs' tenure with the supercomputer centers program, always in external relations, began in 1986 at the Cornell Theory Center, one of nation's first four supercomputer centers in addition to SDSC. From there, she directed external relations for the Center for Research on Parallel Computation at Rice University in Houston, TX, before joining SDSC in 1995. She was named director of education, outreach, and training (EOT) in 1999.
Redelfs also was a member of the leadership team for EOT-PACI under a joint effort with the National Science Foundation's National Partnership for Advanced Computational Infrastructure (NPACI) program. She returned to Cornell in 2002, but to the university's Ornithology Lab as their director of public programs after having a lifelong interest in that field.
Redelfs earned an MS in zoology with a minor in mass communications from Oklahoma State University. Her master's thesis, "Wetland Values and Losses in the United States," was distributed by the U.S. Fish and Wildlife Service to more than 500 natural resources professionals and offices. In 1982, she won the first Young Conservationist of the Year Award from the National Audubon Society for her volunteer efforts, including the development of educational programs, at the Payne County Audubon Society in Oklahoma.   
In 2004, she founded Redelfs LLC to focus on working as an independent grant writer, project manager, and leadership team member for numerous organizations."
About SDSC
As an Organized Research Unit of UC San Diego, SDSC is considered a leader in data-intensive computing and cyberinfrastructure, providing resources, services, and expertise to the national research community, including industry and academia. Cyberinfrastructure refers to an accessible, integrated network of computer-based resources and expertise, focused on accelerating scientific inquiry and discovery. SDSC supports hundreds of multidisciplinary programs spanning a wide variety of domains, from earth sciences and biology to astrophysics, bioinformatics, and health IT. SDSC's petascale Comet supercomputer is a key resource within the National Science Foundation's XSEDE (Extreme Science and Engineering Discovery Environment) program.