Published December 9, 2020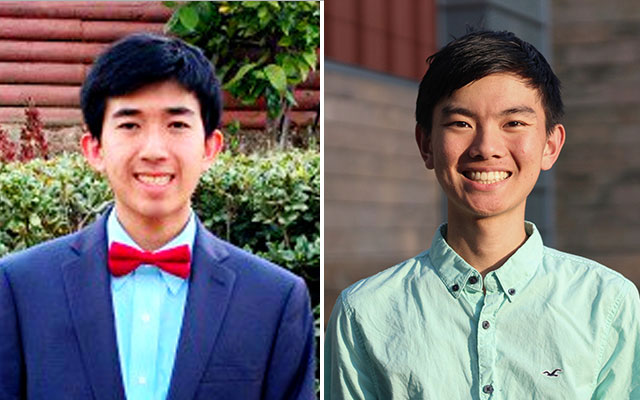 By Kimberly Mann Bruch, SDSC Communications
This summer, San Diego Supercomputer Center (SDSC) high school and undergraduate student interns worked with researchers Igor Tsigelny and Valentina Kouznetsova on two cancer studies which have been published in the journals Oral Diseases and Microbial Pathogenesis.
According to the American Cancer Society, oral cancer was the cause of death for more than 10,000 people in the U.S. last year. UC San Diego Mentor Assistance Program (MAP) student Jeremy Li used machine learning tools to assist Tsigelny and Kouznetsova to examine ways that saliva could be used for quick and efficient oral cancer diagnosis.
"I obtained a list of metabolites within two diseases (oral cancer and periodontitis)," said Li, a freshman at New York University. "I then gathered metabolic pathways from the metabolites, which I used to create a Tensorflow script to distinguish between the two diseases."
Li, Tsigelny, and Kouznetsova developed a machine learning-based classifier that recognizes and differentiates between metabolites which are useful in discerning oral cancers from periodontal disease. This model was designed to predict which molecules should be monitored when designing a metabolic panel for diagnosing whether lesions in the mouth are the result of periodontitis or oral cancers.
Future work would start with the application of this machine learning model to a database consisting of all salivary metabolites and involve selecting a set whose concentration changes are most determined with respect to diagnosing between the two diseases.
SDSC Research Experience for High School (REHS) student Andrew Gao, a junior at Canyon Crest Academy, collaborated with Kouznetsova and Tsigelny in a meta-analysis process to understand the link between bovine leukemia virus (BLV) DNA and breast cancer, based on studies regarding the role of BLV viral proteins in human breast cancer.
"With the guidance of Professor Tsigelny and Professor Kouznetsova, I conducted research on BLV and how it may be associated with breast cancer in humans," explained Gao. "I used the similar model of HTLV-1 infection and adult T-cell Leukemia/Lymphoma as a reference, given the high similarities between HTLV-1 and BLV."
"The meta-analysis showed that substantial evidence points towards BLV playing a part in breast cancer in humans and also revealed that differences in methodology accounted for many of the discrepancies between study results," added Gao. "I am very grateful to my professors for assisting me and helping me along the process."
This research was a follow-up to Tsigelny and Kouznetsova's 2019 study on the relationship between HTLV and breast cancer that was published in The Journal of Cancer Research and Therapy. In this earlier work, Kouznetsova explained that BLV is similar to HTLV in that it is spread from infected cattle to non-infected cattle. While the virus cannot survive pasteurization, it has the potential to be transmitted from an infected cow's raw milk to a human.
Likewise, the virus may be able to be transmitted from an infected cow's undercooked meat to humans, according to the researchers. As shown in the current BLV journal article, several studies from around the world have found BLV in human breast cancer tumors. For more information on the 2019 study, see the UC San Diego article, UC San Diego Study Points to Virus-Related Acceleration in Some Cancers.
About SDSC
The San Diego Supercomputer Center (SDSC) is a leader and pioneer in high-performance and data-intensive computing, providing cyberinfrastructure resources, services, and expertise to the national research community, academia, and industry. Located on the UC San Diego campus, SDSC supports hundreds of multidisciplinary programs spanning a wide variety of domains, from astrophysics and earth sciences to disease research and drug discovery.