Published January 6, 2022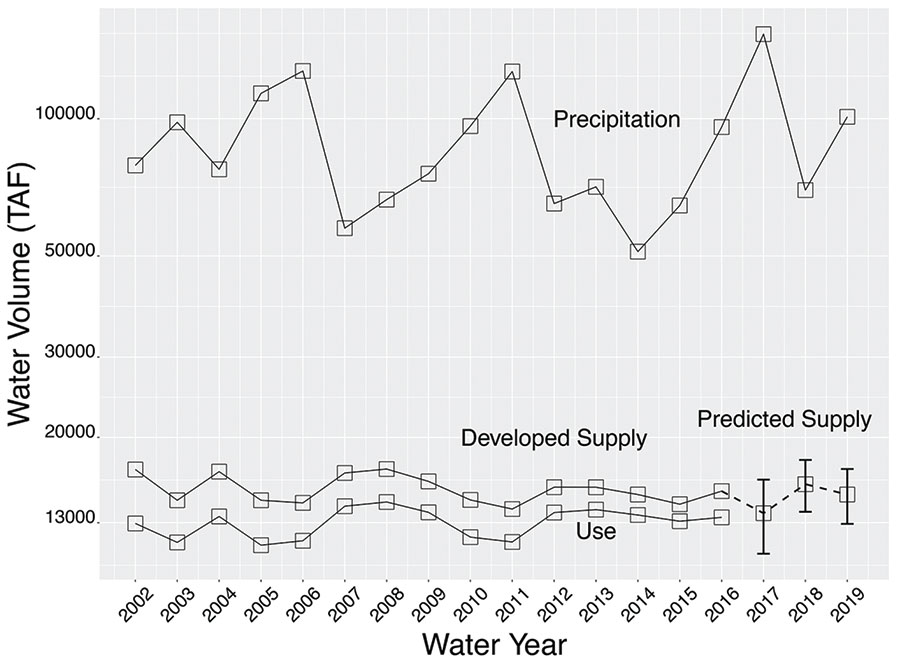 By Kimberly Mann Bruch, SDSC Communications
A UC San Diego research team, along with collaborators in the Department of Water Resources of the State of California (CDWR), recently published findings regarding the Patterns of Water Use in California in a UC Davis-based, open access and peer-reviewed journal called San Francisco Estuary and Watershed Science. The study highlights the discrepancies between agricultural and urban water use in the state.
According to John Helly, lead author and director of the Laboratory for Environmental and Earth Science at the San Diego Supercomputer Center, a key finding was that while water supply and use vary with precipitation, the state's agricultural areas use much more water than urban areas and show no evidence of conservation—even during periods of severe drought. The marginal difference between supply and use is decreasing statewide despite substantial conservation patterns in urban areas.
The research is based on newly comprehensive data at the finest spatial and temporal scales published by CDWR covering the period of 2002-2016. Methods to access these data are provided within the manuscript.
"These water balance data, as they are called, provide the best quantitative framework available for resource management decision-making," said Helly. "Policy makers need this type of information so that they can make better-informed decisions about water resource management."
Scientists working on the project included Helly, who is  also a research associate at Scripps Institution of Oceanography (Scripps); co-authors Dan Cayan and Tom Corringham, also from Scripps; and Jennifer Stricklin and Todd Hillaire of the CDWR.
This work was funded by the US Environmental Protection Agency, the  California Department of Water Resources (CDWR) and the National Oceanographic and Atmospheric Administration through the California and Nevada Applications Program.