Published December 14, 2022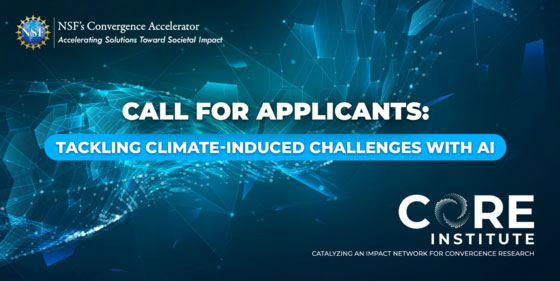 The newly launched CORE Institute, funded by the NSF Convergence Accelerator, is designed to catalyze a network of researchers and practitioners committed to creating impact through convergence research, which focuses on solving complex problems in engineering, science and society. The CORE Institute Fellows Program provides participants with the skill sets and networks to identify use-inspired problems and build convergence research solutions designed with pathways to sustainable integration into existing societal systems. A workshop will be hosted Friday, Dec. 16, 2022, at 12 p.m. PT/3 p.m. ET, for potential applicants to learn more about the CORE Institute and the inaugural fellowship application process.
Each year, the CORE Institute will select a thematic focus related to a societal grand challenge. The theme for 2023 is "Tackling Climate-Induced Challenges with Artificial Intelligence." While AI plays an increasingly important role in defining strategies for climate change adaptation, resilience and mitigation, AI alone cannot comprehensively address the complexity of climate-induced challenges. Supported by a network of experts in convergence research principles and methods, fellows from academia and the public and private sectors will come together through a virtual convergence research bootcamp to design AI solutions to climate change challenges that are actionable, equitable and scalable.
"Selected fellows will join our six-week bootcamp – forming teams with participants from diverse disciplines and sectors – ranging from AI experts, climate scientists, legislators and staffers to public policy professionals, climate activists and researchers," said Zaira Razu, director of the CORE Institute.
During the summer of 2023, the CORE Institute will host an in-person incubator at UC San Diego, where selected teams of fellows will be supported to work on proposals and prototype their solutions. The incubator will serve as a time for teams to create a plan to secure external funding and partnerships to transfer their ideas and technologies to practice.
"In the CICORE Division of SDSC, we are working on creating a culture of use-inspired projects driven by our people, expertise and partnerships. These projects not only build on diverse data, AI, science and versatile computing platforms, but also elevate our impact to the societal scale. At the CORE Institute, we are excited to build on our convergence research culture and create pathways for training a network of solution-minded CORE Fellows with the leaders of projects funded by the Convergence Accelerator," said Ilkay Altintas, chief data science officer at SDSC.
Individuals interested in attending the workshop can register here. Deadline to apply: Jan. 8, 2023. There will be a Virtual Bootcamp March 6 - April 14, 2023 and an In-Person Incubator July 10 - 16, 2023. Please see the CORE Institute website for full details.