Published January 30, 2015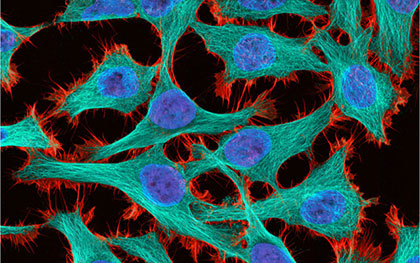 Researchers from the University of California, San Diego School of Medicine and University of California, San Francisco – with support from a diverse team of collaborators including the San Diego Supercomputer Center (SDSC) – have launched an ambitious new project to determine how all of the components of a cancer cell interact.
"We're going to draw the complete wiring diagram of a cancer cell," said Nevan Krogan, director of the UC San Francisco division of QB3, a quantitative biosciences research institute, in announcing the Cancer Cell Map Initiative, or CCMI.
Krogan is an investigator at Gladstone Institutes and co-director of CCMI with Trey Ideker, chief of medical genetics in the UC San Diego Department of Medicine and founder of the UC San Diego Center for Computational Biology & Bioinformatics.
The CCMI will provide key infrastructure for the recently announced alliance between UC San Diego Health Sciences and San Diego-based Human Longevity Inc., which plans to generate thousands of tumor genomes from UC San Diego cancer patients. It also will leverage resources and information from the National Cancer Institute (NCI), including large databases of cancer genomes and pathways that are being developed in collaboration with SDSC, an Organized Research Unit of UC San Diego, and UC Santa Cruz.
SDSC currently hosts the UC Santa Cruz Cancer Genomics Hub (CGHub), a secure repository for storing, cataloging, and accessing cancer genome sequences, alignments, and mutation information from the Cancer Genome Atlas (TCGA) consortium and related projects.
"We have the genomic information already," said Ideker. "The bottleneck is how to interpret the cancer genomes. A comprehensive map of cancer cells would help – and accelerate the development of personalized therapy, the central aim of 'precision medicine.'
The CCMI combines expertise at UC San Diego in extracting knowledge from big biomedical data sets with advances developed at UC San Francisco for experimentally interrogating the structure and function of cells. It is a multi-million dollar collaboration between the UC San Diego Moores Cancer Center and the UCSF Helen Diller Family Comprehensive Cancer Center; funded by QB3 at UCSF, UC San Diego Health Sciences and support from Fred Luddy, founder of ServiceNow, a provider of enterprise service management software.
The full press release on CCMI and additional partners in the project can be found on the UC San Diego website.